London to Paris in 40 minutes? Brussels to Amsterdam in 16 minutes? Madrid to Lisbon in 55 minutes? This is the vision laid out in a new European report today, detailing how a developed hyperloop network could change global travel and replace short-haul flights.
Simply put, a hyperloop is a transport concept where vehicles are shot through pressurised tubes at high speeds. The idea has been around since the 19th century, but was catapulted into the public consciousness by Elon Musk in 2013. 
While entrepreneurs in Europe and the US are racing to develop a workable hyperloop system, the costs and feasibility of building an international network for the technology have left big question marks over vision becoming reality.
Today's report, "A global hyperloop network — Vision 2050 and beyond" from Valencia-based startup Zeleros, answers some of those questions.
Partnering up
Produced in partnership with Spanish rail operator Renfe, road infrastructure company Roadis and MIT and Southwest Jiaotong universities, the report lays out a vision for a global network and, crucially, gives an idea of how much it might cost.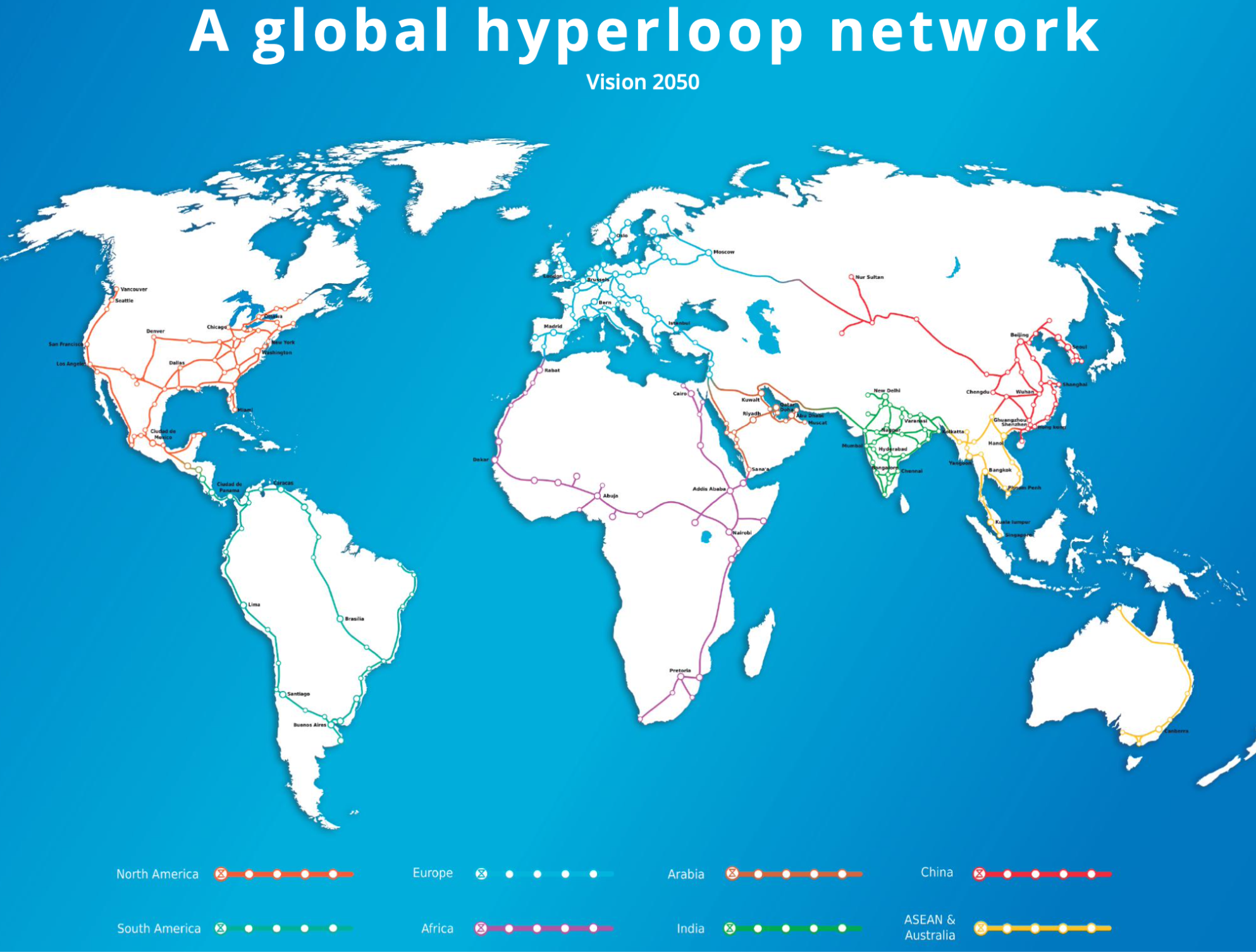 Speaking exclusively to Sifted ahead of the report launch, Zeleros's chief operating officer Luis Navarro Vedreño said that partnering with urban planning and infrastructure specialists was crucial to the research.
"We're a deeptech company developing these vehicles, but we're not experts on urban planning, or engineering new routes," he says, adding that companies like Renfe took a considerable branding risk by putting their name to the report.
Sifted Newsletters
Sifted Newsletter
3x a week
We tell you what's happening across startup Europe — and why it matters.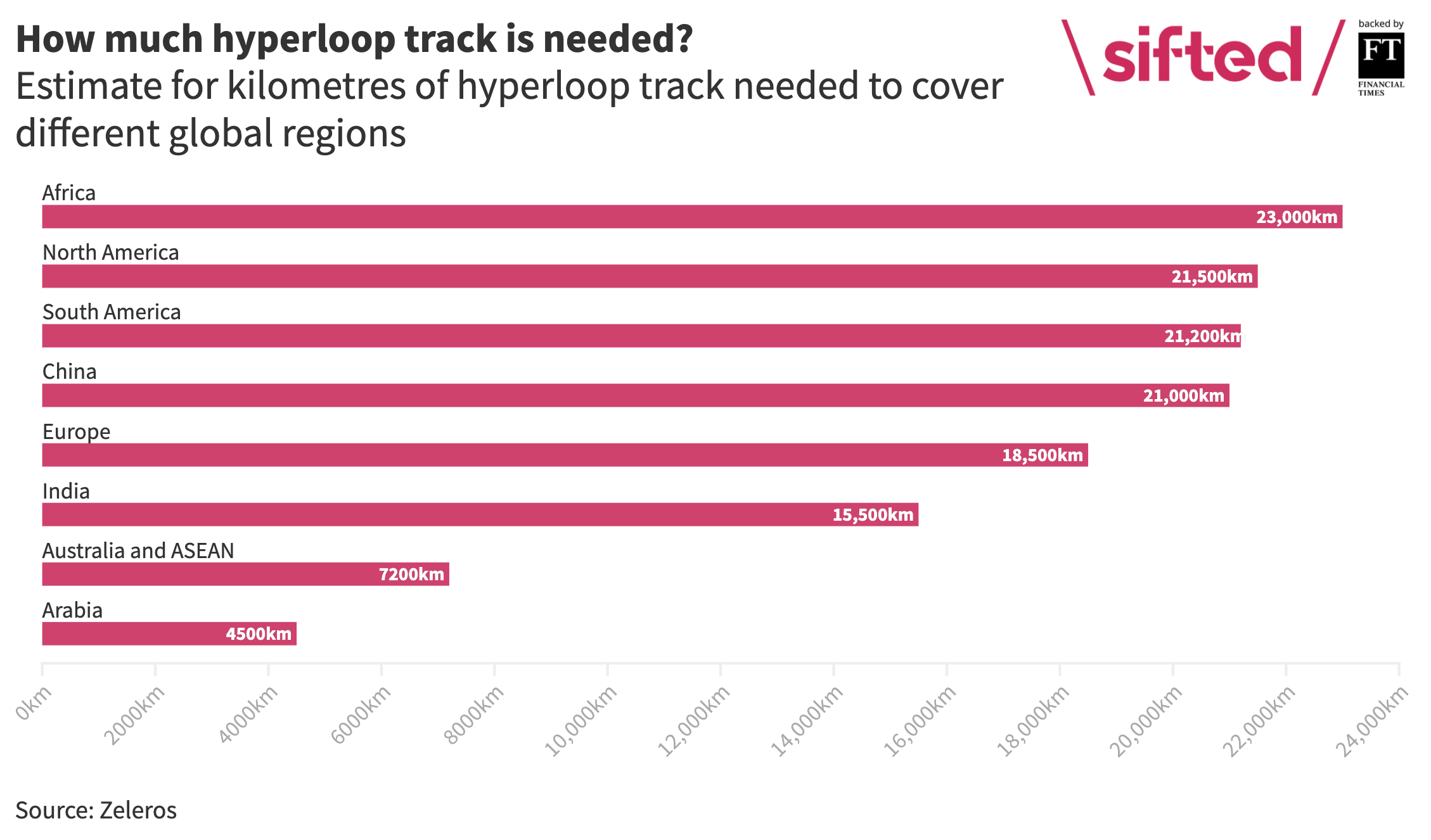 Scalability
Knowing how much track is needed is an important first step for infrastructure planning — but how much will it cost? 
The answer could depend greatly on what kind of hyperloop technology is used, as different startups are following different design approaches.
Hyperloop competitors that are developing maglev (magnetic levitation) technology — such as Virgin Hyperloop and Netherlands-based Hardt — would come with much higher infrastructure costs than Zeleros's solution, Navarro Vedreño argues.
This, he says, is because many maglev solutions require powered track for the whole distance of the hyperloop route, as each section of track must propel and levitate the vehicle using electromagnets.
The Valencian startup meanwhile is developing vehicles with an onboard, battery-powered propulsion system, meaning that the vast majority of track won't need any kind of power.
[caption id="attachment_53372" align="aligncenter" width="1024"]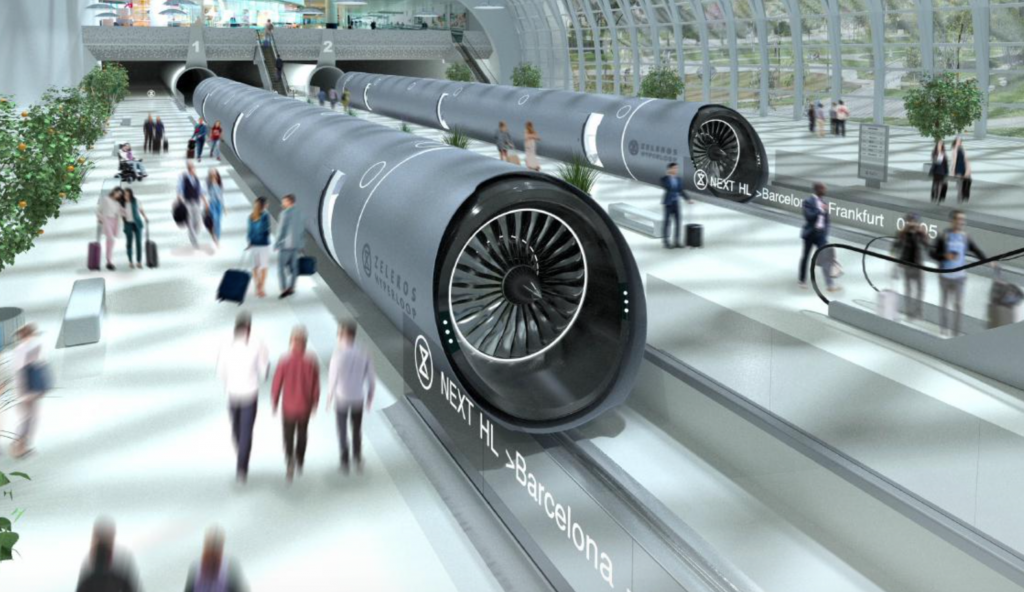 A concept image of Zeleros's capsules, with onboard propulsion system inspired by aircraft[/caption]
Navarro Vedreño says that Zeleros's system would translate to big infrastructure savings. 
The company estimates that infrastructure costs would amount to €20m to €40m per km of Zeleros track, while maglev solutions can range from anywhere between €40m to €100m per km of track.
The comparison to maglev solutions is roughly in line with leaked documents from Virgin Hyperloop from 2016, indicating that a 107-mile track in California would cost $121m per mile (€64.6m per km).
But if the estimates are correct, that would mean a cost of between €370bn to €740bn to build Zeleros's vision of a European hyperloop network.
Given that the European lawmakers struggled to agree on a landmark €750bn Covid-19 recovery fund, it's safe to say that this comprehensive network on the continent is still some way off.
[caption id="attachment_53371" align="aligncenter" width="1024"]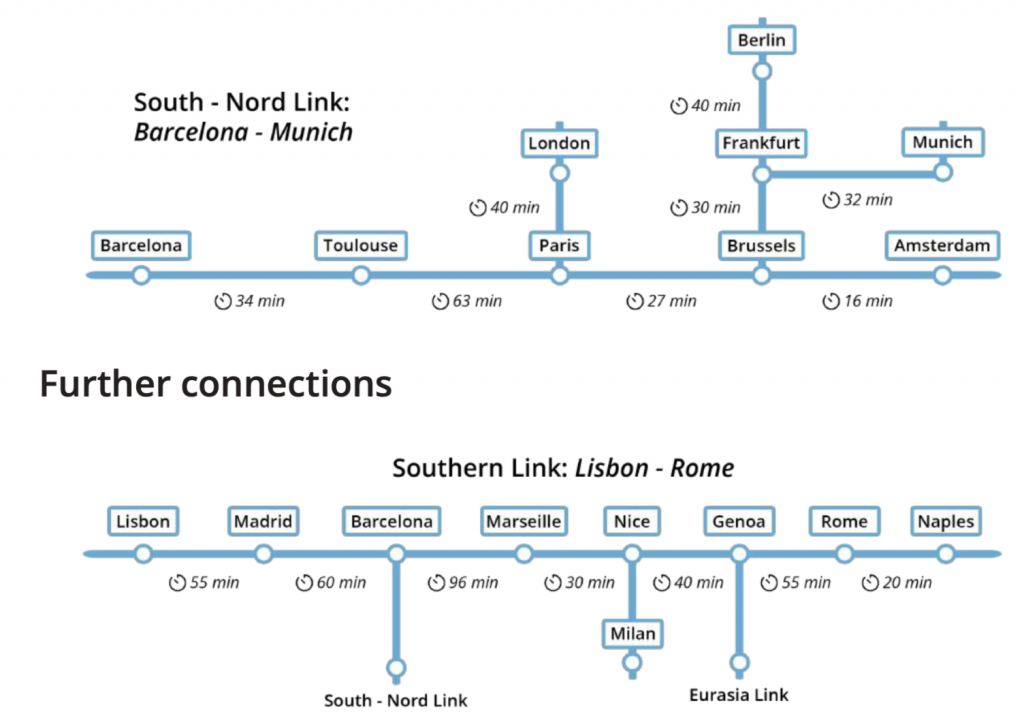 A proposed hyperloop route map for European cities with journey times. Source: Zeleros[/caption]
Government backing
That said, politicians in the US and Europe are taking hyperloop seriously. 
In the US, President Biden's $1.2tn Infrastructure Bill includes provisions to further support hyperloop development, making the technology eligible for federal funding. 
Meanwhile, the European Commission's Sustainable and Smart Mobility Strategy has included hyperloop in its long-term strategy to reduce carbon emissions from transport by 90% by 2050. 
European countries have also joined forces to establish common standards for hyperloop systems, via the European Committee for Standardisation and the European Committee for Electrotechnical Standardisation.
The private sector
Support for hyperloop isn't only coming from policymakers keen to reduce emissions. Sections of the private transport sector are also lending their support to the technology.
European railway industry body Shift2Rail (which counts many of Europe's leading train companies among its members) has launched a project to accelerate hyperloop development, with support from the EU's Horizon 2020 grant scheme.
Quoted in the Zeleros report, Valentín Alegría, director of innovation and network development at Renfe, said: "Novel guided transport means such as hyperloop have a great potential to expand the available portfolio of technologies to move passengers and good efficiently for international long-distance routes."
Zeleros's Navarro Vedreño believes there will be a tough fight between railway and airline operators, to win the tenders to run hyperloop networks.
"There will be really intense competition between rail operators, airlines and newcomers trying to get part of that portion of the pie, because it will be massive," he says.
Zeleros's report estimates that a comprehensive network in Europe could generate €57bn in annual revenue, and save 1319m tonnes of CO2 emissions.
The startup hopes that this global report will put Zeleros at the front of the queue as different governments around the world begin to consider hyperloop in their infrastructure plans.
But while there's a self-serving element to the study, it also gives us some much-needed detail on what a future including hyperloop could look like.
Tim Smith is Sifted's Iberia correspondent. He tweets from @timmpsmith.